More info
ESP Tip with a hidden spike BE-05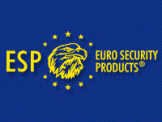 ESP - Security Products in Europe
Compact tip for the Friction Lock extendable baton. Inside the tip is a hard spike, which is made of durable silicone.
Useful equipment for the armed forces and rescue teams, especially useful in emergencies.
The tip is sold separately as an accessory for the Extendable Baton for the ESP Compact Baton. The tip can be easily installed on an extendable baton instead of a standard tip.
Weight: 76 g
Note: Buy ESP Tip with a hidden spike BE-05 in the Europe only if you are at least 18 years old.